Here at Minerva, our team loves California and everything this beautiful state has to offer! 
From its picturesque nature, to its amazing and diverse culture, there is so much to appreciate and even more to explore and enjoy. Now that the world is beginning to cautiously open up once again, there's no better time to get out there.
In one of our previous blogs in our ongoing series, we touched on some of our favorite spots to experience California's outdoor splendor. Let's now dive further. It's safe to say that newcomers and enthusiasts alike know the state as being one of the best for skiing/snowboarding in the country.
Keep reading as we touch on some of The Golden State's storied winter sports history, and offer some more of our fave spots/slopes to go check out next time you're planning that much-needed trip. 
California's Winter Sports History
California has a deep and rich winter sports history, especially in the 20th century when exciting developments were happening around the mountains up and down the state. Starting with annual Winter Carnivals and morphing into the 'mega industry' we know today – considering all the natural beauty California has to offer – this growth is certainly not a surprise. 
Just like the Gold Rush, the winter sports craze took California by storm. In fact, did you know that Walt Disney actually provided the initial investment that funded the very first chairlift in California? (Back then, it cost a quarter if you wanted to enjoy the ride up, and $2 for those that fancied skiing back down.) 
Among other gorgeous spots, the selection of California as host of the 1960 Winter Olympics would subsequently galvanize the Truckee-Tahoe region's economy, turning it into one of the most visited skiing and snowboarding areas in the United States.  
Our Fave Spots & Slopes
While it's admittedly extremely tough to pick our favorites out of so many great spots – here are just a few of them that you should consider for your next adventure:
Running Springs
The very rustic and charming, Running Springs, has been a choice destination with traditions dating back to the 19th century. According to the Running Springs Chamber of Commerce:
The logging industry gave way to property investors and in the late 1920's the first community subdivisions for vacation properties and camps arose. 
With the continued population growth of Southern California, these beautiful San Bernardino Mountains have provided unsurpassed opportunities for recreation and year-round living. 
Come and discover the majesty of the Running Springs Area, the "Gateway to the San Bernardino's!"
Snow Valley 
Located near Running Springs and with official beginnings in 1924, Snow Valley also has a deep history of winter sports. Its scenic views and sun-soaked slopes have kept generations coming back for more, year after year:
According to the Snow Valley Mountain Resort website: 
From the steeps of Slide Peak to long cruising intermediate trails to the region's best beginner terrain to Southern California's only chairlift serviced sledding area, Snow Valley has something for everyone during winter. In addition to our fantastic terrain, Snow Valley's award winning Learning Centers offer lessons for all ability levels and ages.
*Fun fact: Our founder, Andrea Lupear, lived in Running Springs and Lake Arrowhead from birth until she was 22. She learned to ski at age 4 and raced for Snow Valley Race Team from ages 5 to 12. She then raced for Goldmine, now Bear Mountain. Andrea's proud skiing history is just one of the many reasons why we love skiing at Minerva! 
Here's an exclusive action shot of 5-year-old Andrea shredding her first-ever race, at Snow Valley: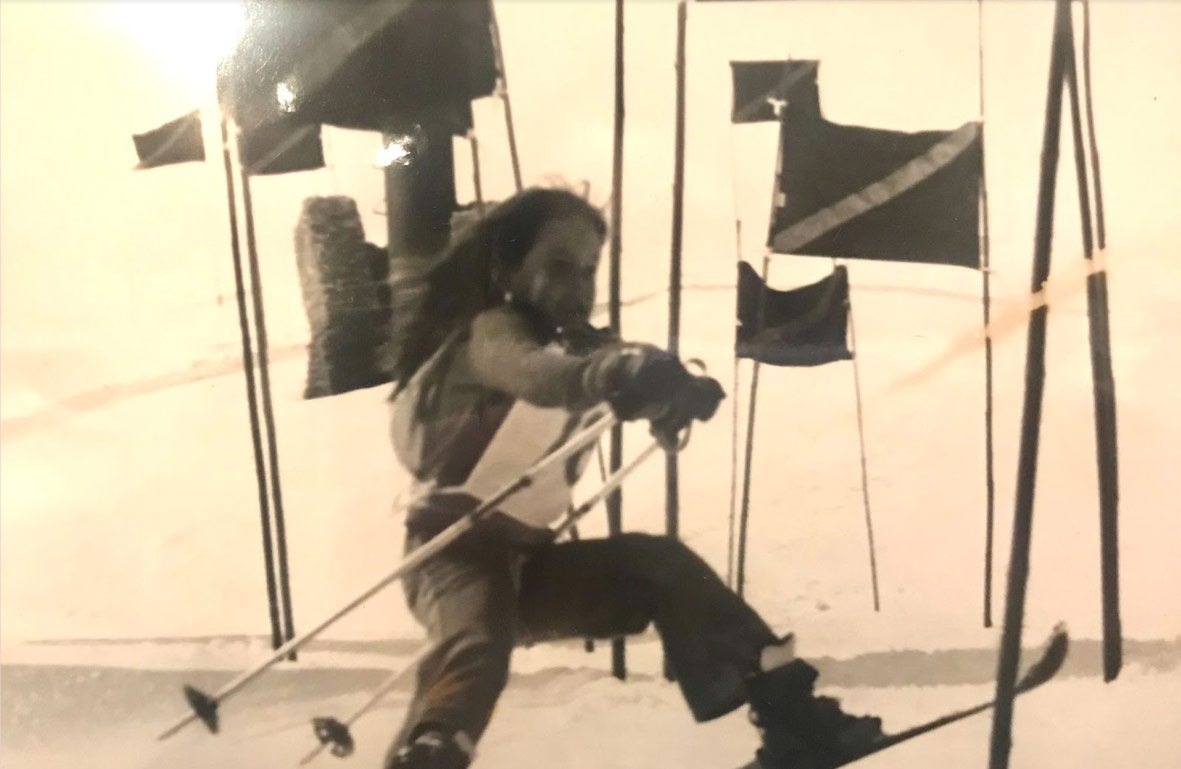 Backside of Kirkwood Mountain
No California-themed skiing/snowboarding blog would be complete if we failed to put a spotlight on the backside of Kirkwood Mountain (one of our absolute favorite destinations). Per their website:  
There's something magical that happens when storms roll into Kirkwood. Some like to say we measure our snow in feet not inches, and others simply sum it up as the "K-Factor."
Storms come from the north and south, pick up precipitation on the west coast, funnel through a tight canyon up the Sierra Foothills and UNLOAD on Kirkwood's perfect position.
The "K-Factor" generates quality skiing and riding conditions throughout the winter season. Whether it's a sunny California day or pure stormy bliss, Kirkwood provides fun skiing and riding in all conditions.
Magical, indeed! With a ton of cornice drop-ins — we love flying down Devil's Draw ripping big ol' GS turns — after which there is a small bar/restaurant tucked away back there that really comes in handy during the post-shred chill sesh.
Minerva: Helping You Explore
We hope this blog gives you some direction as to where to begin your search for California's hidden (and not so hidden) mountain gems. So don't just take our word for it, get out there and experience all these amazing spots for yourselves!
Be sure to stay tuned for more California-themed content as well as the latest Minerva news & product drops. 
Have You Heard?? Minerva is officially set up with an Orange County delivery company, Market Run Delivery, so check them out & treat yourself, today!